Description
Light as AIR…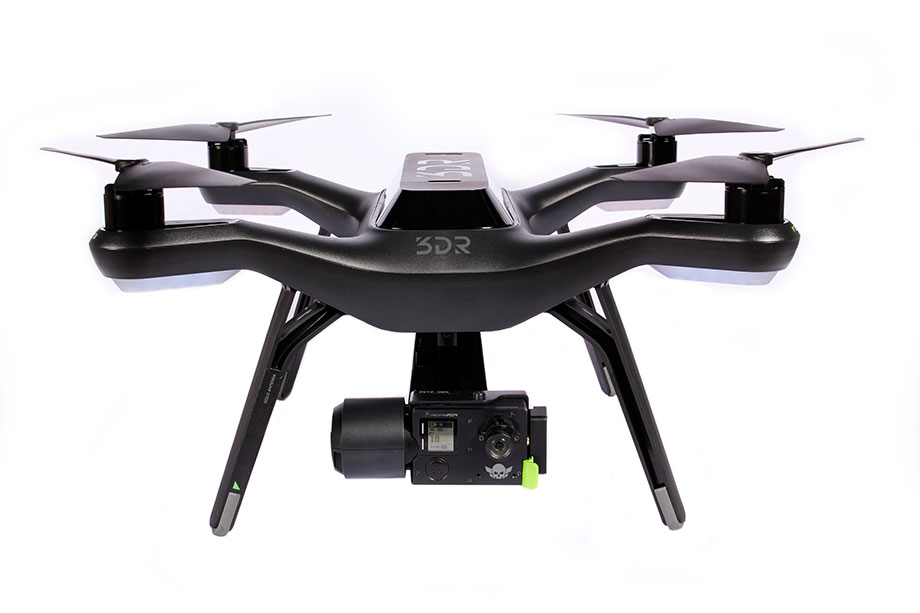 Designed from the ground up to be as light as possible, the new Ribcage AIR for for GoPro Hero4 is perfect for any aerial platform but we designed it specifically with the 3DR Solo in mind. Benefit to the max from 3DR's unique full camera control – only now with interchangeable lenses to get exactly the look you want. Many distortion free wide angle lenses are available. Use M12 lenses under 10 grams on the Solo or most other small GoPro handheld or aerial gimbals*.  Use CS, C-mount or larger lenses on bigger aerial platforms and gimbals. You can even fly with some great vintage D-Mount and Bolex lenses.
All of the lens mounting rings are easily removable for filter replacement and sensor cleaning. Combine up to two custom filters in camera at the same time.  You won't need filters for all your different lenses anymore, just  for the camera! Now you can use ND, cold mirror, NDVI and other custom wavelength filters with your M12 lenses, or lenses that have no filter threads on the front. Choose from our line of tried and tested high resolution lenses, or use your own. Browse through our library of high resolution lenses to find the right lens for your needs!
* M12 lenses under 10 grams recommended for Solo and other GoPro gimbals. Back-Bone's 'DEAD WEIGHT' gimbal balancing kit for Solo recommended for best results and to reduce wear on the gimbal. CS and C-Mount lens types are too heavy for GoPro based gimbals. These are recommended only for larger platforms. 
Features include:
Specially designed to fit the 3DR SOLO gimbal!
New 'Deep Socket' M12 mount is compatible with even more lenses, reducing the need for heavy adapters
Out of the box compatibility with M12(S-Mount), CS-Mount , C-Mount lenses and accessories**
Combine up to two different filters of two different sizes in camera at the same time
Custom Back-Bone GOcase included!
Fully compatible with the EXO mini Mounting Bracket
Easily removable mounting rings allow access to the image sensor for cleaning
Adjustable flange distance
Finally, a light weight, small form factor 4K camera with interchangeable lenses! It's the GoPro Hero4 Black that you know and love, but supercharged with Back-bone's custom all aluminum Ribcage AIR mod kit. Now you have the ability to pick the perfect lens for any situation so you can shoot in amazing 4K 30fps or at 1080p at speeds up to 120fps. Out of the box the Ribcage is compatible with micro M12, CS-Mount and C-Mount lenses. You can attach virtually any other type of manual lens via readily available C-Mount adapters found online and in stores.  Take advantage of what professional lenses have to offer: manual focus control, a more cinematic depth of field, macro shooting, optical zoom and iris control. You'll receive a removable tripod mount so you can connect your camera to professional mounts and supports. Want night vision? Just take out the IR cut filter so you can see in the dark with any IR light source! Have a difficult lens? Use the adjustable flange distance feature to get the perfect results. The Ribcage modified camera is configured with a removable IR-cut filter for maximum versatility and easy cleaning of the filter and sensor if required. Note that the filter must be added when using the camera for the first time.
When using our 7.5mm M12 lens you can either remove the IR-cut filter or reconfigure the camera with the supplied rubber O-ring instead of the plastic spacer to achieve proper focus.
Custom Back-Bone GOcase Included!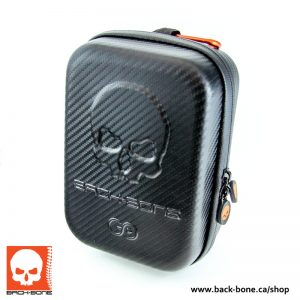 Back-Bone has teamed up with GOcase to create the perfect case for your Ribcage! Carry your Ribcage or GoPro camera, lenses and accessories in style! Featuring GOcase's QwikPik™ foam cube system, durable 4-layer construction, premium materials and your own custom layout.
Because you can use just about any lens with your Ribcage Mod we decided it was best to let you decide what layout works best! The GOcase QwikPik™ foam system allows individual cubes to be removed to create a custom fit inside the case. Includes a removable pouch for accessory storage.
Custom QwikPik™ Foam Interior
Perfect for Ribcage, GoPro and other small cameras and lenses
Removable Accessory Pouch
Water-Resistant Hard Shell and Waterproof Zipper
Microsuede Lining for Scratch Free Protection
Included Carabiner, Loop and Handle
DEAD WEIGHT GIMBAL BALANCING KIT FOR SOLO
No more quarters and tape! Built specifically for the 3DR Solo gimbal, the DEAD WEIGHT balancing kit for Solo allows you to easily counterbalance lenses, filters and accessories mounted to your stock GoPro or Ribcage AIR modified cameras. Ultra dense metals were chosen for the counterweights to pack the most punch in a tiny size. Almost 2x heavier than lead! Our easy to use snap-on mounting system clips easily onto the back of your Solo gimbal. You can then snap our custom weights into any of the 10 clip positions. Just position the weights until your camera is balanced vertically and then slide the entire assembly left or right to balance it horizontally. A balanced gimbal means more efficient operation, less stress on the motors and of course butter smooth video.
Package includes:
Snap-on mounting system
4x 4g weights
2x 2g weights
1x retaining bracket
Be a superhero!
Package includes:
1x Ribcage AIR Mod Kit professionally installed on a Hero4 Black camera
1x Custom Back-Bone GOcase
All manuals, accessories and cables included with the original product
1x Original GoPro lens, prepared for use in the Ribcage.
2x IR cut filter (15mm)
1x IR cut filter holder / spacer
1x Micro Allen key for adjusting the flange distance.
1x packet of spare screws and L-keys and hardware
GoPro Battery
Snap-on mounting system (counterbalance)
4x 4g weights
2x 2g weights
1x retaining bracket
Please note that the slim Hero4 waterproof housing is included as it comes with the original camera. For waterproof use we recommend picking up the extended backdoor for the case and to use our 7.5mm Low Profile lens with the standard M12 mount. You can cut a piece of foam to fill the small space behind the camera, or put in the protective plastic cap that comes with the camera; it just so happens to be exactly the right thickness. When using our 7.5mm M12 lens you can either remove the IR-cut filter or reconfigure the camera with the supplied rubber O-ring instead of the plastic spacer to achieve proper focus.