Description
If you like shooting videos and taking photos on the go, you know just how important it is to be ready at a moment's notice.  That one-in-a-million shot doesn't wait for you to fumble with the camera while trying to line up the perfect angle to snap a picture, and once you've missed it, you may never get it back.
The creative team at Orbit Pole feels your pain, and has built the perfect tool to allow you the freedom and versatility to capture those special moments in the blink of an eye.  The Orbit Pole Trim is the filming crane of choice for social media superstars, vloggers, and anyone else that wants to make sure they never miss those make-or-break shots again.
The handle-mounted thumb wheel allows for single hand operation so you can capture your favorite moments in glorious 360° for seamless photos and videos.
The Universal Angle Joint and Orbiting Mount provides the ability to set your static angle from +90° to -90° quick and easily, but if you prefer the conventional fixed position, you can lock your camera in a single direction with a simple twist of a screw.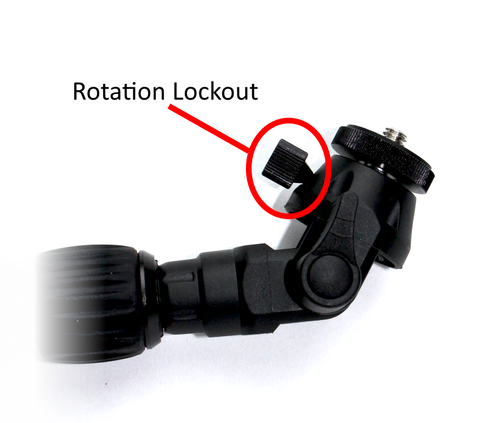 Crafted from durable materials the Orbit Pole Trim will be by your side long after you've reached the pinnacle of internet superstardom.  It accommodates most models of smart phones (by using the included adapter) and action cameras like GoPro, Sony Action Cam, ContourHD, and many others.
So if you're serious about shooting video and capturing photos, the Orbit Pole Trim could be the difference between nailing the perfect shot and losing it forever. Call it a monopod, a filming crane, or even your new best friend.  Just don't call it a selfie stick.  It really hates that.
TECH SPECS:
Collapsed length 20″ / 50cm
Extended length 34″ / 87cm
Handle diameter 1.1″ /28mm
Weight without camera 1.5lbs
Thumb wheel on the handle allows the user to control the camera direction.
Adjustable camera mount angle from -90 to +90 degrees.
Rotation lockout thumb screw.
Not water proof
MATERIALS:
 PA66 Polymer, Aluminum, Stainless steel and Rubber
WHATS INCLUDE:
Lanyard
Carabiner
Gopro Tripod mount
Smartphone Tripod adapter.