Description
Maximum Versatility
Never before has there been a more versatile camera than the Ribcage AIR Modified GoPro Hero4. Its small size, light weight and astonishing shooting options make it a pocket sized powerhouse. It features native CS & C-Mount lens support as well as M12 lens compatibility. Almost any popular lens type can be attached with optional adapters including Canon, Nikon, Pentax and more! Take advantage of what professional lenses have to offer: manual focus control, a more cinematic depth of field, macro shooting, optical zoom and iris control. You'll receive a removable tripod mount so you can connect your camera to professional mounts and supports. Want night vision? Just take out the IR-cut filter so you can see in the dark with any IR light source! Have a difficult lens? Use the adjustable flange distance feature to get the perfect results.
Light as AIR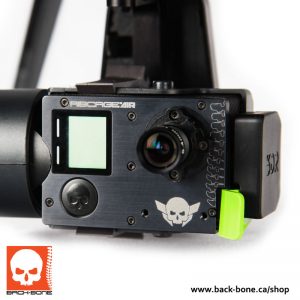 Designed from the ground up to be as light as possible for increased compatibility with gimbals and drones, the Ribcage AIR Modified GoPro Hero4 is perfect for any aerial platform. Connect your favorite CS & C-Mount lenses for use on large gimbals or use the included M12 lens mount to use your camera with GoPro sized drones and gimbals. The Ribcage AIR features special mounting points for secure seating on 3DR's Solo. Many distortion free wide angle lenses are available to get exactly the look you want.
All of the lens mounting rings are easily removable for filter exchange and sensor cleaning. Combine up to two custom filters in camera at the same time.  You won't need filters for all your different lenses anymore, just  for the camera! Now you can use ND, cold mirror, NDVI and other custom wavelength filters with your M12 lenses, or lenses that have no filter threads on the front. Choose from our line of tried and tested high resolution lenses, or use your own. Browse through our library of high resolution lenses to find the right lens for your needs!
360 VR
The Ribcage AIR fully supports all the best lenses currently used to capture stunning high resolution, high frame rate immersive 360° videos with fewer cameras! Mount Entaniya, iZugar and more! Check out our Modulus series of mounts and mods; all fully compatible with your Ribcage AIR! Single lens, back-to-back and 3x camera are rigs available as well as unique components so you can create your own camera arrays.
Vintage Glass
C-Mount has been around since the 1920's where it was originally used on movie cameras. The Ribcage camera can accept all kinds of vintage lenses including those from 16mm movie cameras like Bolex, or 8mm C-Mount and D-Mount home movie camera lenses (adapter required). Film is a rare commodity these days, so why not give your lenses new life with Ribcage!
From Microscopes to Telescopes and Everything in Between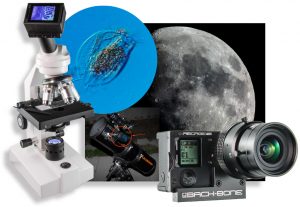 In addition, C-Mount is commonly used in scientific and medical imaging equipment so the camera can be directly connected to many microscopes and telescopes! Insert custom filters in order to capture specific wavelengths.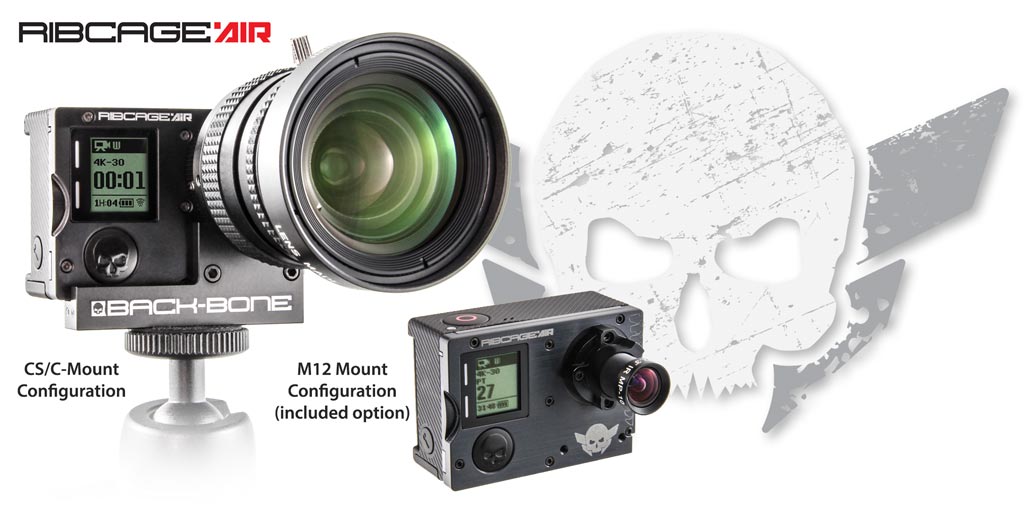 Features include:
Out of the box compatibility with M12(S-Mount), CS-Mount , C-Mount lenses and accessories
New light weight design
Removable tripod mounting plate
New 'Deep Socket' M12 mount is compatible with even more lenses, reducing the need for heavy adapters
Adjustable flange distance
Combine up to two different filters of two different sizes in camera at the same time (15mm or 10mm diameter, 1mm thickness)
Custom Back-Bone GOcase included!
Fully compatible with the EXO mini Mounting Bracket
Fully compatible with the 3DR SOLO gimbal
Easily removable mounting rings allow access to the image sensor for cleaning
Adjustable flange distance
Custom Back-Bone GOcase Included!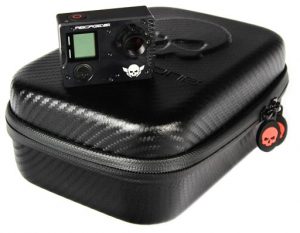 Back-Bone has teamed up with GOcase to create the perfect case for your Ribcage! Carry your Ribcage or GoPro camera, lenses and accessories in style! Featuring GOcase's durable 4-layer construction, premium materials and custom foam layout. Includes a removable pouch for accessory storage.
Custom cut foam interior
Perfect for Ribcage & GoPro
Removable Accessory Pouch
Water-Resistant Hard Shell and Waterproof Zipper
Microsuede Lining for Scratch Free Protection
Included Carabiner, Loop and Handle
Package includes:
1x Ribcage AIR Mod Kit professionally installed on a Hero4 Black camera
CS/C lens mounts (pre-configured)
1x Deep Socket M12 lens mount (included option)
1x Custom Back-Bone GOcase
1x Original GoPro lens, prepared for use in the Ribcage.
2x IR cut filter (15mm)
1x IR cut filter holder / spacer
1x Micro Allen key for adjusting the flange distance.
1x packet of spare screws and L-keys and hardware
1x Battery
All manuals, accessories and cables included with the original GoPro product
Please note that the slim Hero4 waterproof housing is included as it comes with the original camera. For waterproof use we recommend picking up the extended backdoor for the case and to use our 7.5mm Low Profile lens with the standard M12 mount. You can cut a piece of foam to fill the small space behind the camera, or put in the protective plastic cap that comes with the camera; it just so happens to be exactly the right thickness. When using our 7.5mm M12 lens you can either remove the IR-cut filter or reconfigure the camera with the supplied rubber O-ring instead of the plastic spacer to achieve proper focus.
* M12 lenses under 10 grams recommended for Solo and other GoPro gimbals. Back-Bone's 'DEAD WEIGHT' gimbal balancing kit for Solo recommended for best results and to reduce wear on the gimbal. CS and C-Mount lens types are too heavy for GoPro based gimbals. These are recommended only for larger platforms.