Product Description
Small Package, Big Power!
A killer high resolution, high frame rate interchangeable lens camera that will take all popular lens types! This version of the camera has a built in screen, perfect for focusing and framing your shots. Designed with emphasis on widely available M12, CS-Mount and C-Mount our Hero4 design refines that of our popular Hero3 mod to give you even more great features. All of the lens mounting rings are easily removable for filter replacement and sensor cleaning. Combine up to two custom filters in camera at the same time.  You won't need filters for all your lenses, just  for the camera! Now you can use ND and NDVI and other custom bandpass filters with your M12 lenses, or lenses that have no filter threads on the front. Choose from our line of tried and tested high resolution lenses, or use your own. Browse through our library of C-Mount lens adapters to find what you need!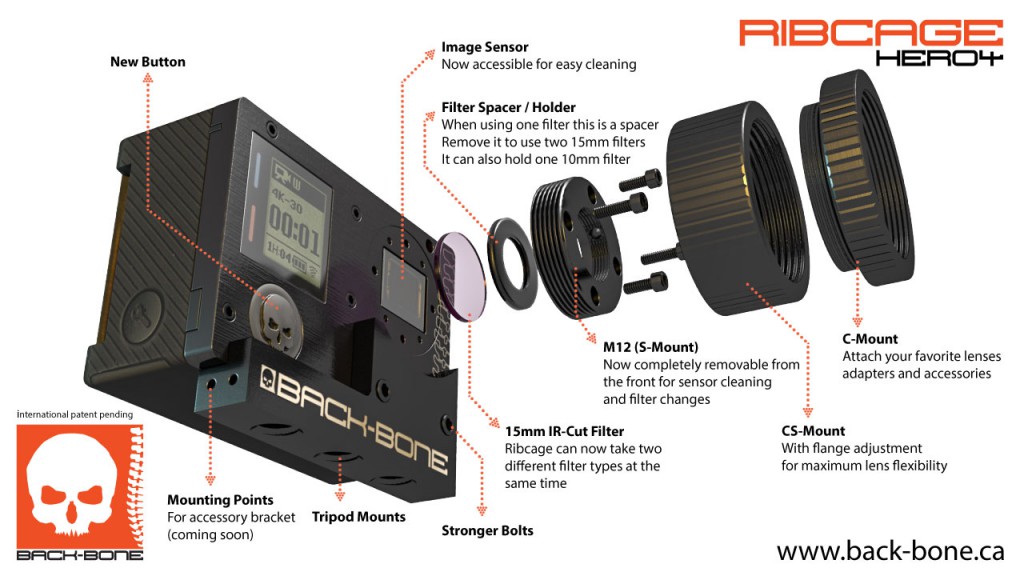 Features include:
Out of the box compatibility with M12(S-Mount), CS-Mount , C-Mount lenses and accessories

Custom Back-Bone GOcase included!

Fully compatible with the EXO mini Mounting Bracket
Easily removable mounting rings allow access to the image sensor for cleaning
Adjustable flange distance
Combine up to two different filters of two different sizes in camera at the same time
Use ND filters with most M12 lenses
Custom filters such as ND 0.3, 0.6 & 0.9, IR bandpass, NDVI and more coming soon!
Custom Back-Bone GOcase Included!
Back-Bone has teamed up with GOcase to create the perfect case for your Ribcage! Carry your Ribcage or GoPro camera, lenses and accessories in style! Featuring GOcase's QwikPik™ foam cube system, durable 4-layer construction, premium materials and your own custom layout.
Because you can use just about any lens with your Ribcage Mod we decided it was best to let you decide what layout works best! The GOcase QwikPik™ foam system allows individual cubes to be removed to create a custom fit inside the case. Includes a removable pouch for accessory storage.
Custom QwikPik™ Foam Interior
Perfect for Ribcage, GoPro and other small cameras and lenses
Removable Accessory Pouch
Water-Resistant Hard Shell and Waterproof Zipper
Microsuede Lining for Scratch Free Protection
Included Carabiner, Loop and Handle
The world's most versatile camera just got better.
Finally, a light weight, small form factor camera with interchangeable lenses! It's the GoPro Hero4 Black that you know and love, but supercharged with Back-bone's custom all aluminum Ribcage kit. Now you have the ability to pick the perfect lens for any situation so you can shoot in amazing 2.7K 24fps or at buttery 1080p 60 fps. Out of the box the Ribcage is compatible with micro M12, CS-Mount and C-Mount lenses. You can attach virtually any other type of manual lens via readily available C-Mount adapters found online and in stores.  Take advantage of what professional lenses have to offer: manual focus control, a more cinematic depth of field, macro shooting, optical zoom and iris control. You'll receive a removable tripod mount so you can connect your camera to professional mounts and supports. Want night vision? Just take out the IR cut filter so you can see in the dark with any IR light source! Have a difficult lens? Use the adjustable flange distance feature to get the perfect results. The Ribcage modified camera is configured with a removable IR-cut filter for maximum versatility and easy cleaning of the filter and sensor if required. Note that the filter must be added when using the camera for the first time.
Note: Some M12 lenses require more distance from the sensor than the built-in M12 socket allows. We recommend also purchasing our optional M12 to CS adapter to guarantee compatibility with all your favorite lenses. When using our 7.5mm M12 lens you can either remove the IR-Cut filter or reconfigure it with the supplied rubber O-ring to achieve proper focus.
Be a superhero!
Package includes:
1x Ribcage Mod Kit professionally installed on a new Hero4 Silver camera
1x Custom Back-Bone GOcase
All manuals, accessories and cables included with the original product
1x Original camera lens, prepared for use in the Ribcage.
1x M12 locking ring
2x IR cut filter (15mm)
1x IR cut filter holder / spacer
2x Micro Allen key for adjusting the flange distance.
1x packet of spare screws and hardware
Please note that the slim Hero4 waterproof housing is included as it comes with the original camera. For waterproof use we recommend picking up the extended backdoor for the case and to use our 7.5mm Low Profile lens. You can cut a piece of foam to fill the small space behind the camera, or put in the protective plastic cap that comes with the camera; it just so happens to be exactly the right thickness.