Conditions of Sale
Return Policy
Goods may be returned or exchanged within 14 days of receipt providing they are returned in "as new" unopened condition, free of visible marks, scratches or defects, complete with all packaging materials. and are accompanied by a receipt from the original purchase. Ribcage Mod Kits can only be returned if unopened and
unused

. Returned items are subject to a 5% restocking fee. Shipping charges are not refunded. Return shipping charges are the responsibility of the customer. In the event that taxes or duties are charged to Back-Bone on receipt of a returned item they will be subtracted from the refund. A receipt of the tax/duty charge will be provided to the customer in that case.
All returns are subject to inspection and return approval by Back-Bone staff. Back-Bone reserves the right to charge for missing or damaged merchandise and parts. If Back-Bone Management determines that an item is returnable but does not meet all guidelines, Back-Bone reserves the right to charge an additional restocking fee. The fee charged may vary according to the item's condition, the state of the item's packaging and the item value. The minimum restocking fee is 5%.
Shipping Policy
All buyers are responsible for brokerage fees, their country's taxes and duties.  These additional charges are not included in the shipping price.  Please check with your country's customs office to determine what the additional costs will be prior to buying. We are unable to mark the package as a "Gift". Declared value will come from your invoice, and it will not be altered.
Ribcage Modified GoPro Cameras
By purchasing a Ribcage modified GoPro camera from our store you recognize and agree that the original GoPro manufacturer's warranty is null and void. Due to the nature of the product Back-Bone cannot be held responsible for accidental damage caused by users opening the product or removing / replacing the IR Cut filter. All sales of this product are final.
Ribcage Mod Kits for GoPro Hero3/3+ and Hero4
Back-Bone has designed the Ribcage Mod Kit as a cost effective alternative to buying our more expensive fully modified GoPro cameras. Its use requires that the GoPro camera be disassembled, and as such this product may not be for everyone. We have done our best to create quality products with detailed installation instructions.
By purchasing this kit you agree that Back-Bone has no control over the skill level of the end user and cannot not be held responsible for any damage caused by its installation and use. You acknowledge that you have reviewed the installation instructions prior to purchase and are confident in your skill level to properly install the kit. You recognize that the GoPro warranty will be void once the kit is applied. Due to the nature of this product all sales are final.
Warranty Disclaimer
RIBCAGE MODIFICATION KITS AND RIBCAGE MODIFIED GOPRO CAMERAS ARE PROVIDED TO THE REQUESTOR ON AN "AS IS, WHERE IS" EVALUATION PURPOSE ONLY BASIS, SOLELY UNDER THE USE AND DIRECTION OF THE REQUESTOR, WITHOUT WARRANTY OF ANY KIND (EITHER EXPRESS OR IMPLIED), INCLUDING BUT NOT LIMITED TO ANY IMPLIED WARRANTIES OF MERCHANTABILITY AND FITNESS FOR A SPECIFIC OR GENERAL PURPOSE AND THOSE ARISING BY STATUTE OR BY LAW, OR FROM A CAUSE OF DEALING OR USAGE OF TRADE.
Limitation of Liability
IN NO EVENT, REGARDLESS OF CAUSE, SHALL BACK-BONE BE LIABLE FOR ANY INDIRECT, SPECIAL, INCIDENTAL, PUNITIVE OR CONSEQUENTIAL DAMAGES OF ANY KIND, WHETHER ARISING UNDER BREACH OF CONTRACT, TORT (INCLUDING NEGLIGENCE), STRICT LIABILITY OR OTHERWISE, AND WHETHER BASED ON THIS AGREEMENT OR OTHERWISE, EVEN IF ADVISED OF THE POSSIBILITY OF SUCH DAMAGES.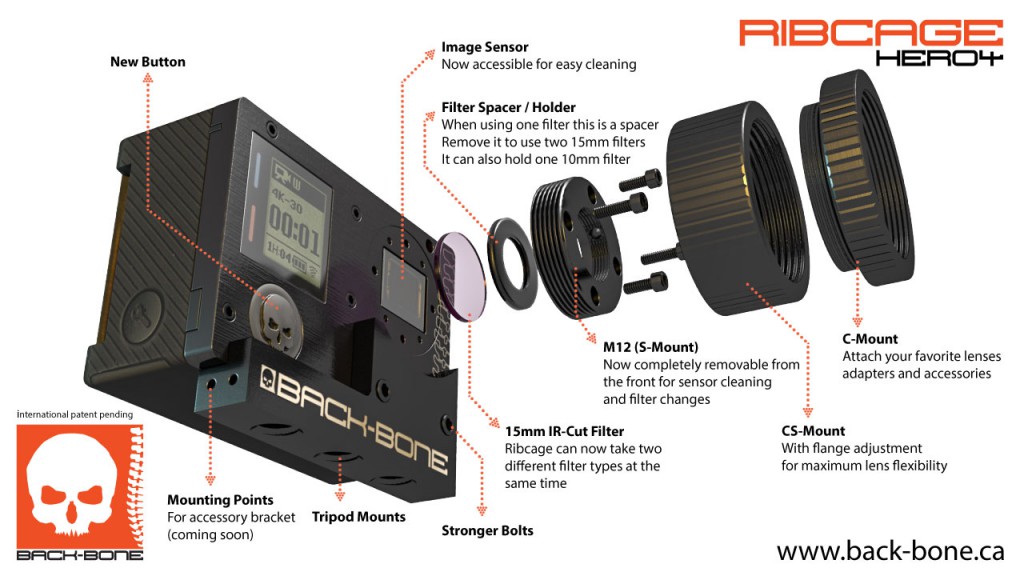 Ribcage Mod Kits are a product of Back-Bone Gear Inc., and are not manufactured, distributed or endorsed by GoPro, Inc.