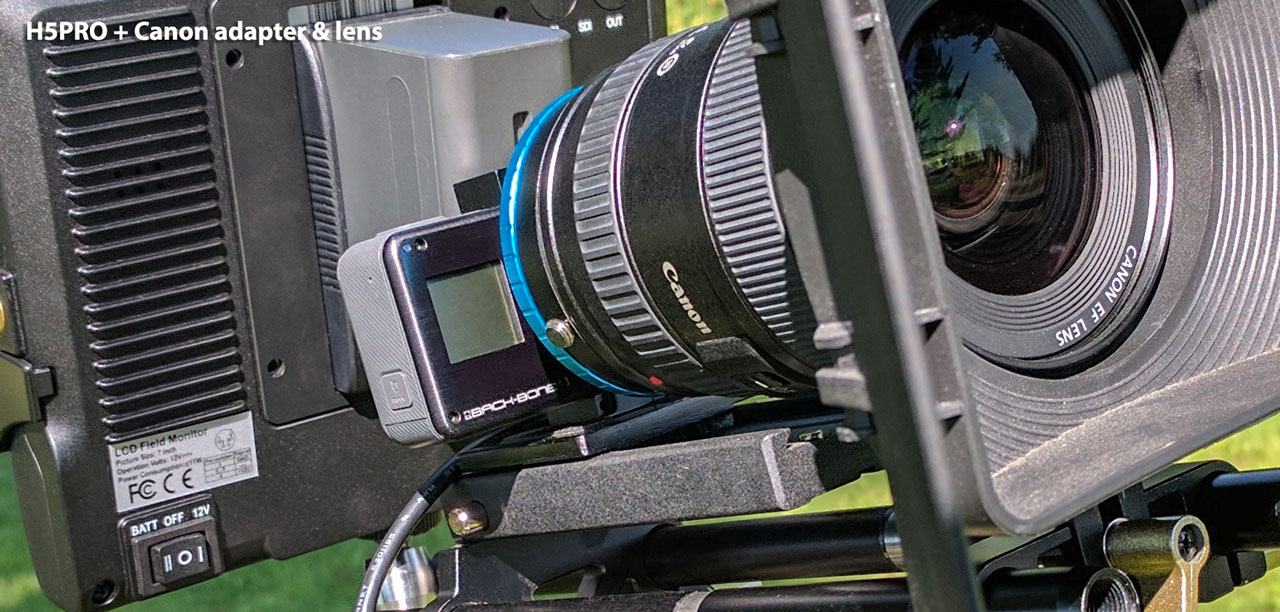 RIBCAGE MODIFIED CAMERAS FOR CINEMATOGRAPHY
Get maximum versatility with Ribcage Modified Cameras from Back-Bone. The small size, light weight and astonishing shooting options make them ideal for almost any application. They feature CS & C-Mount lens support as well as M12 lens compatibility. Their action camera sized form factor allows them to be used in many low cost gimbal and drone systems. Many distortion free wide angle lenses are available to get exactly the look you want. Ribcage modified cameras also fully support all the best lenses used to capture stunning high-resolution, high frame rate immersive 360° videos with fewer cameras! Ribcage interchangeable lens mods are available for Hero3/3+/4/5/6 and Yi 4K/4K+.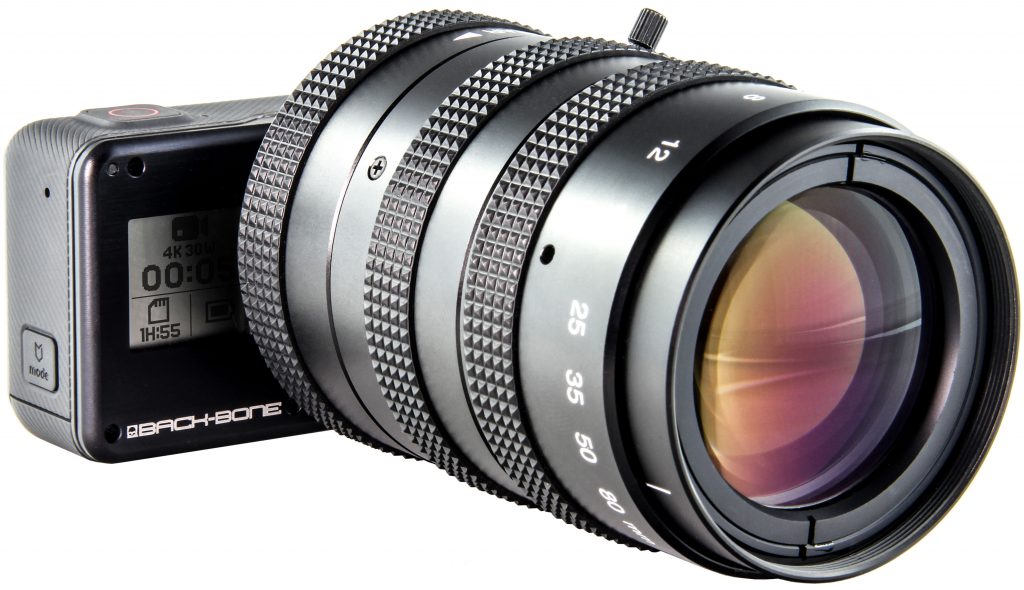 About C-Mount
C-Mount was developed in the 1920's for early film cameras. It was popular for home video cameras up until the 1970's and has since become the standard for high resolution security and machine vision cameras and lenses. As a result, there is a library containing countless high quality lenses from almost 100 years. C-Mount is so common that adapters exist for almost every lens type you can think of. Ribcage Modified Cameras can also accept all kinds of vintage lenses including those from 16mm movie cameras like Bolex, or 8mm C-Mount and D-Mount home movie camera lenses (adapter required). Film is a rare commodity these days, so why not give your lenses new life with Ribcage!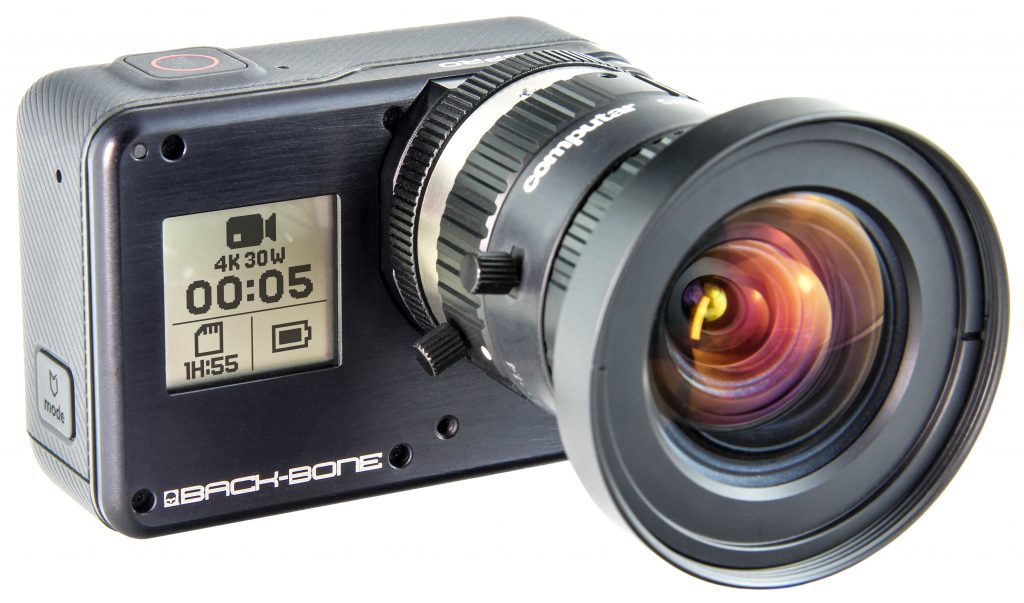 MORE BENEFITS
ANYTHING IS POSSIBLE!
The Hero cameras feature an awesome, crisp and sharp wide angle lens in order to capture all the action, but this may not always be the look you're trying to achieve. With the option to change lenses filmmakers can easily get any look they want from this great camera – and you can use the original lens too!
GET THE LOOK YOU WANT
To achieve a more cinematic look many filmmakers wish to use a more shallow depth of field, creating a 'bokeh' or blurred background and foreground. By adding different lenses the user can now manually control the focus and F-stop to create the ideal look.
MANUAL EXPOSURE CONTROL
Ribcage Hero4, 5 & 6 mods feature full manual control over ISO and shutter speed so you can set and lock your exposure or take full advantage of a lens with an adjustable iris.
CLEAN 4K (UHD) HDMI OUT
Ribcage H5M12 and H5PRO Hero5 mods feature full UHD out from HDMI, free of any interface overlays for capture to external devices and live streaming.
ZOOM IN ON THE ACTION
Use the entire sensor and keep full 4K resolution when using a lens with a narrow field of view – something the unmodified camera can't do. With a manual zoom or telephoto lens attached you can achieve sharp detail from a great distance, and perform zooming during filming.
SEE IN THE DARK
Ribcage mods have a removable IR cut filter, allowing the user the ability of filming with or without the filter. The benefit of this is, with the addition of an IR light source such as a battery powered IR LED panel, you get instant night vision! All those ghost hunters out there can film in complete darkness and still control multiple cameras with the WiFi remote! In addition, the Ribcage Hero4, H5PRO & H6PRO can have up to 2 custom filters installed internally for custom wavelength capture.
HOW MANY OF US HAVE THAT OLD CAMERA BAG IN THE CLOSET GATHERING DUST?
The optics and manual controls on most older SLR, Bolex and Super-8 camera lenses are excellent! Why not breathe new life into them by using them on your Ribcage? With the proper adapter ring you can attach almost any popular brand of manual lens to our mod, including Canon, Nikon, Pentax and more!
4K + INTERCHANGEABLE LENSES FOR LESS
Get a 4K interchangeable lens camera capable of frame rates up to 240 fps (720p) for a mere fraction of the cost of any other camera with similar specifications. Use lenses you already have. Compatible with small GoPro 3-axis gimbals and accessories for stunning professional results. Add more cameras to your production for far less cost and sync them all to one remote or your smart device!