To learn more about Ribcage please view the FAQ items below. Use the topic buttons to narrow down the results.
Do You Offer a Warranty on Your Products?
Yes, so see our warranty information and other policies simple look under the 'information' tab at the bottom of every page.
Mobile app / camera hangs when using Ribcage RX0
If you find that the camera hangs or freezes when trying to capture via the Sony Playmobile app simply change your focus method to 'PF' instead of 'MF'.
Why isn't my lens straight on Ribcage RX0?
When using a lens or adapter with a built in tripod mount from time to time you may find that the lens is off by a couple of degrees. Typically this can be corrected by adjusting the tripod mount on the the lens or adapter itself. In the rare case where this isn't possible you can easily remove the lens locking pin from the camera to allow you to rotate the camera as needed:
Remove the MFT mount by releasing the 3 screws with the provided Allen key.
Take the lens locking pin/button out and keep in a safe place.
Replace the mounting ring. Make sure the logo is at the top and tighten the screws (Don't overtighten).
Why does my Ribcage RX0 display an error code (E:61:00)?
Error Code E:61:00: When we perform the conversion on the camera we must remove the original lens assembly. That means that the auto-focus drive can no longer determine that lenses' position, resulting in the error code. This has no effect on the performance of the camera and the error code will not appear in any footage.
Can the Ribcage RX0 shoot in infrared?
Yes. You can remove the IR blocking filter from your camera if you'd like to perform 'full spectrum' imaging however focus can be soft without special 'IR-corrected' or 'Day & Night' lenses. This is because infrared is typically blurry when visible light is in focus. An 'IR-corrected' lens has special optics to allow visible light and IR to be in focus at the same time. We recommend using a Cold Mirror filter when shooting with normal lenses. These filters completely block visible light and only allow IR into the camera. You can also use an IR illuminator for night vision in the dark. You can also set up your own custom picture profiles in the camera to get exactly the look you want. Note that some lenses may not be able to focus to infinity in infrared.
What is the crop factor of the Ribcage RX0?
While the RX0 does have a 1" 21MP image sensor an effective area of 15.3MP is used. Here are the crop factors you can expect when mounting these common lens types:
2/3" C-Mount – 0.78x (some longer 16mm+ 2/3" lenses will cover the sensor though they are technically too small)
16mm (Bolex) – 0.9x (most 16mm lenses will cover the sensor with no vignette)
Super 16 – 1.03x
1" C-Mount – 1.13x
1.1" C-Mount – 1.25x
Micro Four Thirds – 1.45x
APS-C – 1.89x
DX – 2.01x
APS-H – 2.45x
35mm (Full Frame) – 3.07x
Why are There Two Different Ribcage Hero5 Mods?
We designed the original Ribcage mods for Hero3 and Hero4 to be primarily C-Mount cameras. Over the past few years we've had a lot of requests for a waterproof solution. Due to variations in size and shape of C-Mount lenses this made fitting the camera in the existing waterproof housing very difficult.
We created the H5M12 to be dedicated to small M12 lenses for customers that need a light weight interchangeable lens camera that fits in the existing GoPro housing and will work flawlessly with the Karma and other Hero5 gimbal stabilizers. In addition this version of the camera has the lowest parallax for back-to-back 360 video rigs, so it makes it an excellent choice when pairing it with Entaniya or other super fisheye lenses.
The H5PRO is similar to our previous modifications in that it supports M12, CS and C-Mount lenses as well as most popular lens types using optional adapters. This allows you to take advantage of the Hero5 Black's awesome shooting options and resolution with any lens of your choosing, including Canon, Nikon, Bolex or even Microscopes and Telescopes! This is our most versatile model. It still supports Entaniya and other VR lenses but with a slightly increased parallax (distance between lenses) over the H5M12.
Do the Ribcage Mods for Hero5 fit in the Waterproof Housing?
The Ribcage H5M12 camera was designed to be fully compatible with GoPro's 'Super Suit' for waterproof operation. Not every lens will fit in the housing however. To see if a lens is compatible please view the product details in our shop.
The H5PRO will fit in the waterproof housing, but without a lens. The image sensor is moved farther forward to be compatible with more lens types so M12 lenses that work for the H5M12 camera will stick out too far. We hope to have a solution for that in the future.
How Do I Use the YI 4K Sync Cable?
Setup
Download firmware files – https://github.com/YITechnology/YIOpenAPI/tree/master/vr/bin/1.0.179/en-us

Select one camera as master camera. Rename firmware_first.bin to firmware.bin and copy it to the root folder of the camera's microSD card. Insert the SD card to the camera, turn it on and follow instruction on the screen to update the camera's firmware.
The other camera is the slave camera. Rename firmware_others.bin to firmware.bin and copy it to the root folder of the microSD card of that camera. Insert the microSD cards to the camera, turn on the camera and follow the instruction on the screen to update the firmware.
To set the cameras with desired mode using the touch screen. Currently we support three modes: 12MP photo, 2.5K video and 2.5K time lapse video. Please make sure all cameras are configured with the same mode.

Pair the Bluetooth control with controller camera (optional)

Go to system setting of controller camera.
Select Bluetooth Pairing
Press the button on the Bluetooth control and release until the light on Bluetooth control turns blue.

Install the cameras in your preferred arrangement.
Use the custom sync cable to connect to USB ports of each camera. Each port of the cable is identical so it doesn't matter which endpoint of cable connects to which camera.
Shooting Instructions
Power on

Press and hold both camera's power/shutter button to turn on the camera.

Record video or time lapse video

Change both cameras' mode to video or time lapse video.
Press Bluetooth control's shutter button or control camera's power/shutter button to get all cameras ready for recording.
Press Bluetooth control's shutter button or control camera's power/shutter button again to start recording.
Recording your video.
Press Bluetooth control's shutter button or control camera's power/shutter button to stop recording. We recommend you limit each of your shot to be less than 30 minutes so clock drift is below 10ms. You can record multiple shots as long as your cameras' microSD cards still have space and batteries still have power.

Take photo

Change both cameras' mode to photo.
Press Bluetooth control's shutter button to take a photo.

Power off

Press and hold power/shutter button of the master camera to turn off cameras.

Stitch

Feel free to use any stitching software you like to post-process the recorded video files and generate 360 VR videos.
What is the Return Policy?
Our return policy and other terms can always be seen under the 'information' heading at the bottom of every page.
Is it available in my country?
We ship our products to most countries world wide from our website. We also have a number of re-sellers around the world that can be found here: http://www.back-bone.ca/find-a-dealer/ Orders can also be sent to our sales team by filling out the contact form at the bottom of the page.
How much does it weigh?
Ribcage Hero3/3+ Black Edition (Silver Edition +1g)
Kit Plate set 21g
83g without tripod plate and CS/C rings
105 g with tripod mount and lens rings
129g with EXO bracket attached
Ribcage Hero4 Black Edition (Silver Edition -5g)
Kit plate set 21g
95g without tripod plate and CS/C rings
117g with tripod mount and lens rings
142g with EXO bracket attached
Ribcage AIR Hero4 Black (Silver Edition -5g)
Kit plate set 10g
86g configured with Deep Socket M12 Mount and no tripod mount
98g with tripod mount and lens rings
123g with EXO bracket attached.
Ribcage H5M12
106g Camera + Battery
113g configured with average M12 lens
159g with Entaniya 220
Ribcage H5PRO
107g Camera + Battery
113g configured with C-Mount spacer
178g with Entaniya 220
How heavy a lens will the Ribcage take?
We've tested lenses up to 800 grams and the Ribcage should be able to handle them providing that the weight isn't too far from the camera and the camera is not subjected to violent motion. We recommend lenses 400g and under for the Ribcage AIR unless the lens is supported. We also recommend that large lenses be mounted using a lens clamp to take the stress off of the camera. This will also make your rig and the resulting footage more stable. We recommend using a measure of common sense when mounting big lenses – remember it is a tiny camera!
Is it compatible with Hero3+, White / Silver etc.?
Ribcage Mod Kit for Hero3/3+ is fully compatible with Hero3 Black and Hero3+ Black and Silver. We are developing the Ribcage with the Black versions primarily in mind because of their high end features.  The Hero3 White and Silver have a different image sensor that is not compatible.
Is the Ribcage Mod Kit compatible with the Hero4?
Yes. The Ribcage Mod Kit for Hero4 and the Ribcage AIR mod kits are compatible with both the Black and Silver models. The Hero4 Session is not supported.
How can I focus the lens when I'm not using the LCD BacPac?
We recommend using the LCD BacPac when possible, however external HDMI monitors can be connected, as well the GoPro smart phone app can be used. We prefer to use small field monitors with a focus peaking feature when we are shooting from a tripod. We offer some options for those here: http://www.back-bone.ca/product-category/screens-monitors/ When using the camera for UAV filming, we recommend setting the lens focus to infinity while connected to a monitor, and then attaching it to your gimbal or mount.
Do I need any special equipment for night vision?
The Ribcage mod does not have true amplified night vision like the military, however it can be configured to have a removable IR cut filter so it can be used to see in the dark with an IR light source. We recommend using a battery powered IR LED panel for most situations. These are readily available through a number of vendors online.
What is Ribcage?
The Ribcage is a modification kit for the popular GoPro Hero4 and Hero3/3+ models of action camera. It's design to extend the capabilities of these cameras by allowing the user to connect virtually any lens. The modified cameras can also be attached to telescopes, microscopes, scientific and surgical imaging equipment.
What cameras does the Ribcage support?
The Ribcage Mod Kit for Hero3/3+ supports Hero3 Black and Hero3+ Black and Silver. Hero3 White and Silver are not compatible. The Ribcage Mod Kit for Hero4 and the Ribcage AIR Mod Kit each support Hero4 Black and Silver. Hero4 Session cameras are not supported.
What is the Ribcage AIR?
The Ribcage AIR is a super lightweight version of our popular Hero4 Mod Kit. It's designed specifically for use with drones and GoPro sized gimbals. It fully supports 3DR Solo and a gimbal balancing kit is available as well. It features a new dedicated M12 lens mount to keep the weight as low as possible. The camera can also be configured to accept M12, CS, C-Mount and other lens types.
Will my WiFi remote still work?
Yes, Ribcage modified cameras are still fully functional GoPro cameras so any apps, bacpacs or remotes that where compatible with the original camera are supported.
Will using the Mod Kit void my warranty?
At this time yes. The camera must be opened to complete the modification.
What lenses does the Ribcage Support?
Ribcage modified GoPro cameras support M12 (also known as S-Mount), CS-Mount and C-Mount lenses directly. Virtually any other lens can be connected using optional C-Mount adapters.
What if I'm not comfortable performing the mod myself?
How can I connect my Ribcage to GoPro's awesome mounts?
The easiest way to use GoPro's mounting system with the Ribcage is to use 'The Frame' mount available in our shop or anywhere that sells GoPro cameras. GoPro mounts will support the camera along with small lenses up to about 100 grams. For large lenses we recommend using a tripod or other sturdy mounts with 1/4″-20 threads. The Frame for Hero5 is included with every Ribcage H5M12 or H5PRO modified camera.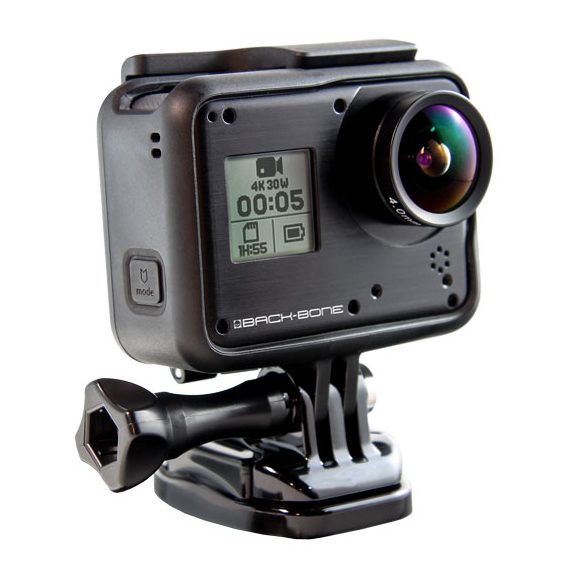 Will non-Ribcage AIR mods fit in the 3DR Solo?
Ribcage for Hero3/3+ and the original Ribcage for Hero4 will not fit into the 3DR Solo gimbal. Only the Ribcage AIR has been designed to perfectly fit their mounting bracket. We also recommend using our 'Dead Weight' gimbal balancing kit for Solo.
Does the Ribcage Mod just snap on over the lens?
No. The GoPro lens is not suitable to be modified in this way so the Ribcage is designed to be a complete lens replacement kit. The camera is opened and the image sensor is re-located. Detailed instructions are available on our support page on how to do that. Fully modified cameras are also available for purchase.
What's the best lens?
The best lens is of course dependent on what you need to do with the camera.  1/2.3″, 1/2" and 2/3" M12, CS-Mount and C-Mount lenses are ideal. The original GoPro lens is roughly 3mm so most of our customers like to go with a more narrow 'low distortion' lens between 4mm and 8mm which will allow for wide to medium angle shots with low distortion to be shot in the GoPro's 'Wide' mode. For people wanting soft focused backgrounds we recommend using lenses with manual focus and iris rings that are 12mm+ Full frame 35 mm SLR lenses will result in a magnification factor of 5.7x, so we've found that wider angle lenses are a better option depending on the application. More lens buy tips are available here: https://www.back-bone.ca/support/ribcage-lens-buying-tips/
What is the Shipping Policy?
Our policies can be found under the 'information' heading at the bottom of every page.