Description
Please Note: Back-Bone modified GoPro cameras are not waterproof.
The GoPro Hero7 Black has industry leading specs, quality and features. Why not take full advantage by putting on your own choice of lens?
Keep full 4K/60 resolution with narrow fields of view
Get professional looking defocused backgrounds
Live streaming
Next generation 'HyperSmooth' video stabilization*
Use vintage lenses like Bolex & D-Mount
Optically correct fisheye distortion without processing
Focus, zoom and iris control for professional results not possible with the original fisheye lens
Add custom optical filters for your application
Create professional high resolution 4K/60 cinematic footage for less money
Fit a professional camera in a small space
Incredible macro
Shoot Infra-Red, NIR and NDVI (with appropriate lenses and filters)
Fit in small drones / gimbals
Connect to microscopes, telescopes and more
*Hypersmooth video stabilization works best with wide angle fisheye lenses. Stabilization will become less effective with longer focal lengths.
SideKick Tripod Mounting Bracket Included!
Our SideKick accessory simply replaces the side door of the HERO5/6/7 Black and screws on to provide a standard tripod mounting point. It's fully compatible with the stock GoPro HERO5, 6 & 7 Black as well as our H5PRO, H6PRO & H7PRO modified cameras.  Note: Stock (unmodified) GoPro cameras are not waterproof while SideKick is connected.
Professional shooting
Use a cost-effective C-Mount lens or attach your favorite SLR lens with an adapter. Use vintage glass like Bolex and Super-8. Pull focus, zoom and control iris settings for the perfect look. With the built in exposure lock and manual exposure controls of the HERO7 you can get a perfect, repeatable result. All that in a tiny package you can fit almost anywhere to get the shot.
Drones / Gimbals
The Ribcage H7PRO is Karma ready when using small M12 lenses and can be mounted to other Hero5/6/7 aerial platforms and gimbals. Customize your field of view by choosing your own lens, no need to lower the resolution for more zoom!
360° Video Capture
Fully compatible with Entaniya, iZugar and many other high resolution circular fisheye lenses for full spherical capture with fewer cameras. Get a full 360° capture with as little as 2 cameras or 360° x 280° with one camera! Get super crisp results from just one camera using the new 4K 4:3 mode! Max 5.7K/60 when stitching two cameras.
The Flexibility of C-Mount
C-Mount was developed in the 1920's for early film cameras. It was popular for home video cameras up until the 1970's and has since become the standard for high resolution security and machine vision cameras and lenses. As a result, there is a library containing countless lenses from almost 100 years. In addition, it's a common mount type for professional scientific and medical imaging equipment so you can attach your camera directly to many telescopes, microscopes and more! Another benefit is that C-Mount is so common that adapters exist for almost every lens type you can think of.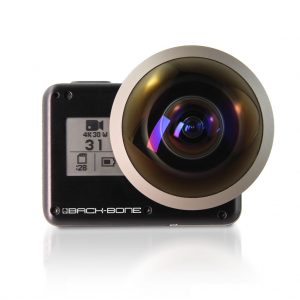 Specifications:
MP4 Video
3840 x 2880 /24/25/30 fps
3840 x 2160 /24/25/30/50/60 fps
2704 x 2028 /24/25/30/50/60 fps
2704 x 1520 /24/25/30/50/60/100/120 fps
1920 x 1440p /24/25/30/50/60 fps
1920 x 1080 /24/25 /30/50/60/100/120/240 fps
1280 x 960 /50/60 fps
Still Image
12MP (4000 x 3000) RAW / JPG / HDR
Features
Hypersmooth video stabilization
Live Streaming
SuperPhoto HDR
Portrait Video/Photo
GPS
Voice Control
Manual Exposure Control
Exposure Lock
Electronic Image Stabilization
Integrated Touch Screen
Quik Integration
Package Includes:
Ribcage H7PRO Modified Hero7 Black
SideKick Tripod Mounting Bracket
Battery
Frame Mount
Spare 650nm IR-Cut Filter
5mm C-Mount ring
M12 to CS adapter
M12 locking ring
Plastic cap
USB-C Cable
Curved adhesive mount
Flat adhesive mount
Mounting buckle
Warranty Information