Description
**Please note that this product is not necessarily for everybody. It requires you to take apart and re-assemble your camera which will void the manufacturer's warranty. Back-bone has no control over the end user's skill level and cannot be held responsible for accidental damage. We recommend that you view the installation video on our support page before you buy to make sure this is right for you. If you don't feel comfortable performing the installation yourself we also offer Ribcage RX0 cameras that have already been modified and tested. Contact us to inquire about our installation services if you already own a compatible camera.**
Important: RIBCAGE RX0 modified Sony RX0 is not waterproof after conversion. The MFT mount is designed for manual lenses only.
Put your own glass on the amazing Sony RX0 with our Ribcage interchangeable lens mod kit. Use our custom parts to configure your RX0 with a passive micro four thirds (MFT) mount* or dedicated C-Mount. With this mount combination you can attach almost any lens, or use your camera with imaging equipment such as microscopes and telescopes. Use your SLR lenses with an optional adapter, or use some great vintage cinema lenses for a unique look.
If desired, the removable IR-cut filter allows you to capture footage in the wavelength of your choice for custom imaging and scientific applications. Control up to 5 cameras at once via WiFi and Bluetooth (Android/iOS/PC). Pair each camera with the new Sony CCB-WD1 Wired Control Box and create massive VR or bullet time arrays of up to 100 cameras with frame-by-frame sync accuracy!
In addition our premium aluminum components help keep the camera cool for extended shooting!
MODIFIED RX0 CAMERA FEATURE OVERVIEW
MFT Mount* & C-Mount
Use SLR lenses & more with optional adapters
Tripod mount with both 1/4-20 & 3/8-16 UNC threads
Improved cooling for extended shooting
Internal filter holder & removable IR-cut filter for custom imaging applications

1" (1.0-Type) stacked Exmor RS CMOS sensor with DRAM Chip

Clean 4K UHD HDMI out
Ultra slow motion up to 1000 fps
Up to 1/32000 sec. Anti-Distortion Shutter

Wireless or Wired multi camera control for multi-view applications

Wifi camera control (Android / iOS)
Control up to 5 cameras via smartphone
*The MFT mount does not supply power to the lens. This mount is designed for manual lenses only. If using C-mount we recommend 1″ or 1.1″ format lenses.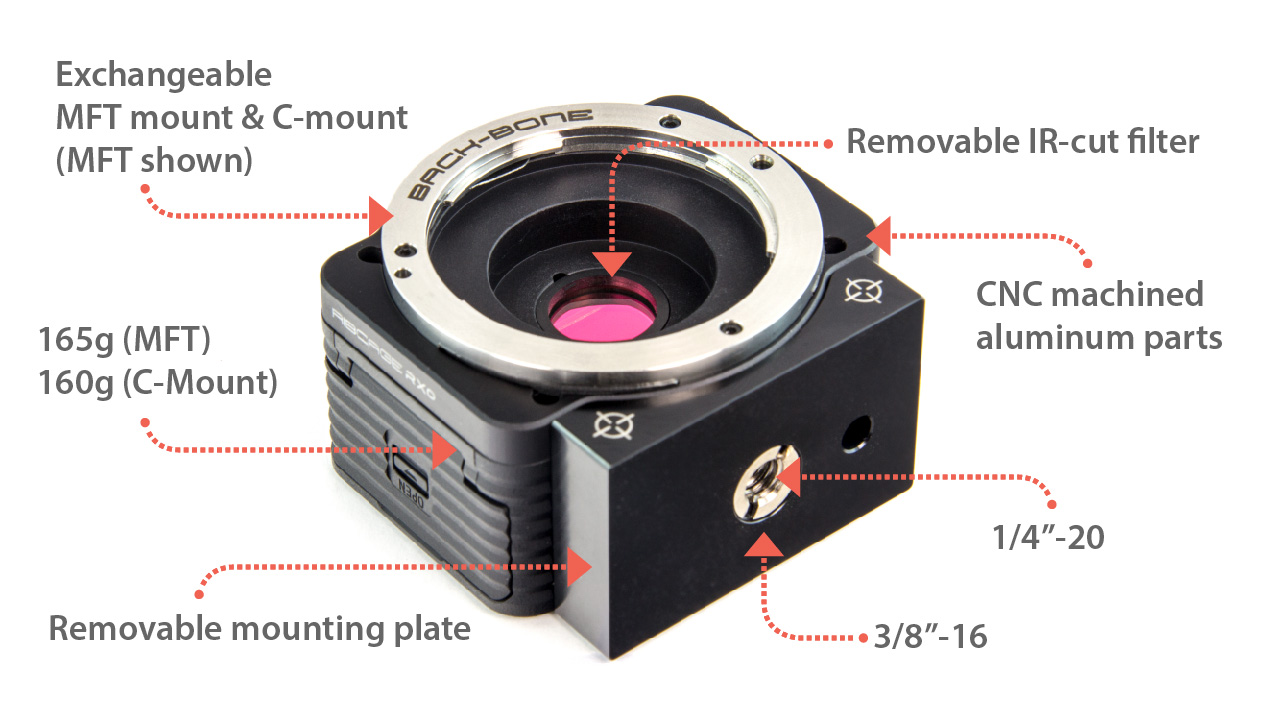 MOD KIT CONTENTS:
1 x Aluminum front plate
1 x Steel MFT mounting ring
1 x Aluminum C-Mount ring (for alternate configuration)
1 x Tripod mounting plate with both 1/4-20 and 3/8-16 threads
2 x IR-Cut Filters
1 x MFT body cap
1 x C-Mount body cap
1 x Plastic spudger
2 x Allen keys
1 x Screw baggie (screws, o-rings and misc hardware)
2 x 100μm shim
1 x 300μm shim
MORE FEATURES:
15.3 MP (EFFECTIVE) 1.0-TYPE EXMOR RS™ CMOS SENSOR
1.0-type stacked CMOS image sensor with DRAM chip enables up to 960fps/1000fps super slow motion and up to 1/32000 super-high shutter speed for movement that, in real time, is beyond human perception. The extended circuit features ample signal processing capacity and high-speed signal readout.
SHOOT VIRTUALLY ANYWHERE WITH WIDE ISO SENSITIVITY
Sensitivity extends up to ISO 12800, for crisper images in extremely low light. Let Auto ISO mode determine the most appropriate setting automatically, or manually expand sensitivity as low as ISO 80. The camera also allows you to set up lower-limit shutter speed at time of Auto ISO setting. With our Ribcage mod you can also adjust the iris as needed to customize your shots.
BIONZ X™ FOR SUPERIOR DETAIL AND TEXTURE
The high-speed BIONZ X image processing engine from Sony is as important as the lens and image sensor, as it powers conversion of light captured by the sensor, so photos and movies can be recorded with more natural details, more realism, richer tonal gradations and lower noise.
ADJUST IMAGES WITH SUPERIOR FLEXIBILITY AND PRECISION
The S-Log2 is a proprietary gamma setting from Sony that is invaluable for professionals seeking post-production flexibility, and extends the dynamic range of recording to reduce occurrence of blown-out highlights and black crush. Picture Profile determines the character of movies by changing basic parameters like chromogenic effects and gradation adjustment.
UP TO 1/32000 SEC. ANTI-DISTORTION SHUTTER
Thanks to the Exmor RS sensor's extremely fast readout, the Anti-Distortion Shutter that is capable of shutter speeds up to 1/32000 sec. minimizes image distortion caused by the rolling shutter phenomenon that can otherwise distort shots of swiftly moving subjects.
CLEAN HDMI OUTPUT FOR 4K MOVIES
For production flexibility, you can use Clean HDMI output to record uncompressed video to an external recorder in your choice of formats and bitrates, including non-compressed 4K movie, and monitor the footage. Moreover, stunning high-precision 4K images with suppressed moiré and jaggies can be delivered via data readout without pixel binning or line skipping.
MF ASSIST AND PEAKING FUNCTIONS REFINE FOCUS
To help you fine-tune focus, Manual Focus (MF) Assist magnifies the area you are focusing on to enable more precise adjustment, while Peaking highlights the sharpest or most in-focus area with your choice of color to help determine whether further focusing adjustment is required.
CUSTOM KEY CREATIVE CONVENIENCE
You can program preferred frequently used functions on your choice of buttons to best adapt the camera to your shooting style. You'll gain prompt, handy fingertip access to your selection of such settings, for faster, more intuitive camera operation.
SUPPORTS REMOTE CAMERA CONTROL
When the camera is connected to a computer, you can use Remote Camera Control to take pictures or change settings on the camera from the computer connected via USB port. All you need to do is to download the Remote Camera Control application of a version that supports your PC.
UP TO 960FPS/1000FPS SUPER SLOW MOTION
Super slow motion at frame rate of up to 960/1000fps is available to capture split-seconds of action in movies. Slow motion shooting at 480/500fps and 240/250fps especially maintains fine images at nearly HD quality with the choice of Quality Priority mode. End trigger mode lets you capture the decisive moment in super slow motion starting from two or four seconds before the REC button is pressed.
UP TO 16FPS CONTINUOUS SHOOTING WITH REDUCED BLACKOUT
Despite its 15.3MP high pixel count, the super-high-speed image sensor boosts readout speed to the extent that the camera can achieve continuous shooting up to 16fps. This lets you capture moments of fleeting beauty or facial expressions. (In Speed Priority Continuous mode. Focus and exposure settings fixed at first shot.)
REMOTE CONTROL VIA SMARTPHONES AND TABLETS
Thanks to built-in Wi-Fi, up to five RX0 cameras can be remotely controlled from a smartphone or tablet. Simply download free PlayMemories Mobile app to your mobile device for remote control of camera shutter release, movie recording start/stop, and instant receiving of captured footage. Also, Bluetooth is available and allows remote power on/off operation.
FOR MORE FLEXIBLE SHOOTING SYSTEMS
The compact, simple body is advantageous in combination with optional accessories. Also, Upside-down Flip Capture flips the image the right way around when the camera has to be mounted upside down according to certain setting requirements.