Description
Notes: Back-Bone modified GoPro cameras are not waterproof. H12PRO cameras are not capable of shooting infrared. If infrared is needed please see our H7PRO or modified Sony RX0 II.  The M12 lenses in our shop list their compatibility in the product details. As a general guide M12 lenses with a back focus distance under 1.9mm are not compatible.
The GoPro HERO12 Black smokes the competition. Why not take full advantage by putting on your own choice of lens?
Use M12, CS-Mount and C-Mount lenses
10-bit color / GP-Log
HDR Video
Up to 120 Mb/s bitrate recording
New 5.3K 8:7 shooting mode
5K/60, 4K/120, 2.7K/240 as well as 4K 4:3 @ 60fps!
Keep full 5K resolution with narrow fields of view or specialty lenses
Get professional defocused backgrounds
Live streaming & webcam
Longer battery life, especially in cold conditions with the new GoPro Enduro battery
Next generation 'HyperSmooth 6.0' video stabilization*
Clean HDMI out available via GoPro Media Mod (sold separately)
Use vintage lenses like Bolex & D-Mount for unique footage
Optically correct fisheye distortion without processing
Focus, zoom and iris control for professional results not possible with the original fisheye lens
Create professional high resolution 5K/60 cinematic footage for less money
Fit a professional camera in a small space
Incredible macro
Fit in small drones / gimbals
Connect to microscopes, telescopes and more!

Choose Your Mount! Tripod Mount & Original Folding Mount Included!
Our tripod mount accessory simply replaces the folding mount on the bottom of the camera to provide three standard tripod mounting points. It's also fully compatible with the stock GoPro HERO8-12 Black! The original mount is also included so you you can take advantage of all the great GoPro mounts. The choice is yours!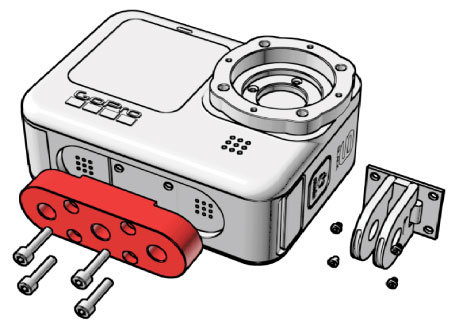 Compatible with GoPro's Media Mod and Accessories (Sold Separately)
Our modified Hero12 fits in the Media Mod with either the aluminum tripod mount or original folding mount so you can monitor your shots via the HDMI port, keep the unit powered via USB and take advantage of professional external microphones. The Hero12 maintains a solid 1080p/60 HDMI output even during recording at high resolutions!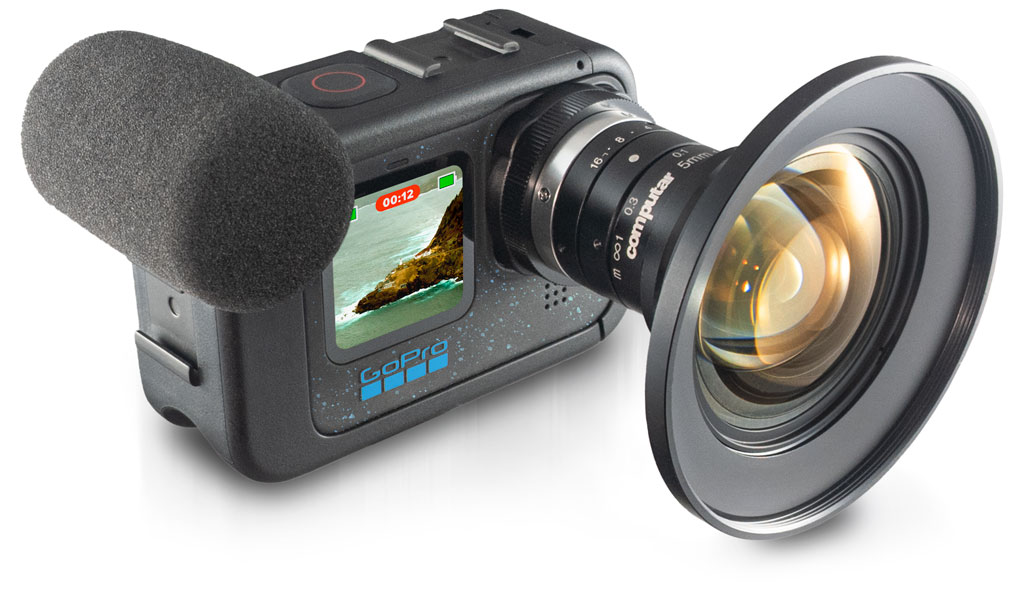 Professional shooting
Use a cost-effective C-Mount lens or attach your favorite SLR lens with an adapter. Use vintage glass like Bolex and Super-8. Pull focus, zoom and control iris settings for the perfect look. With the built in exposure lock and manual exposure controls of the HERO11 you can get a perfect, repeatable result. The new 10-bit color option and increased bitrate allow you the freedom to push the limits while grading your footage! All that in a tiny package you can fit almost anywhere to get the shot.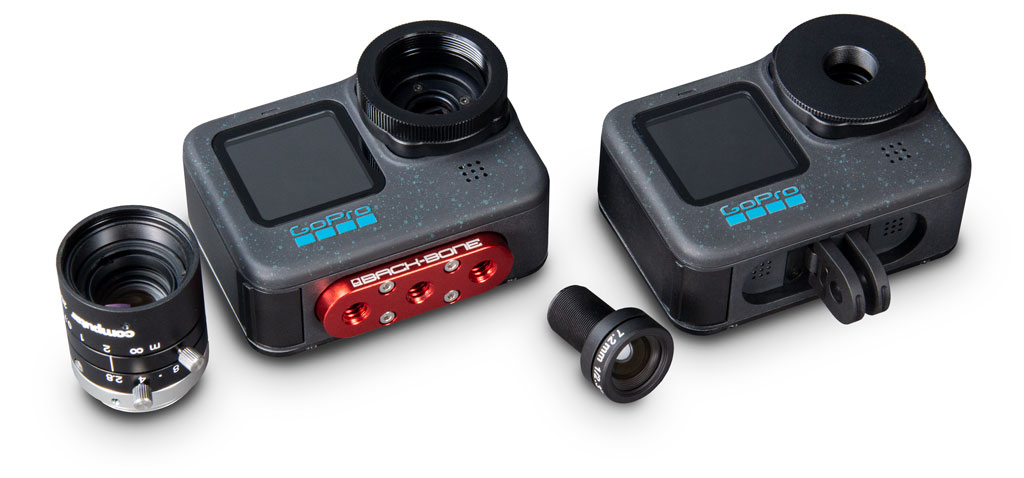 The Flexibility of C-Mount
C-Mount was developed in the 1920's for early film cameras. It was popular for home video cameras up until the 1970's and has since become the standard for high resolution security and machine vision cameras and lenses. As a result, there is a library containing countless lenses from almost 100 years. In addition, it's a common mount type for professional scientific and medical imaging equipment so you can attach your camera directly to many telescopes, microscopes and more! Another benefit is that C-Mount is so common that adapters exist for almost every lens type you can think of.
Optional Micro Four Thirds Mount Available (Not included)
We offer an optional MFT mount for manual lenses! Take advantage of all those great manual Micro Four Thirds cine lenses! You can also take advantage of MFT lens adapters and speed boosters.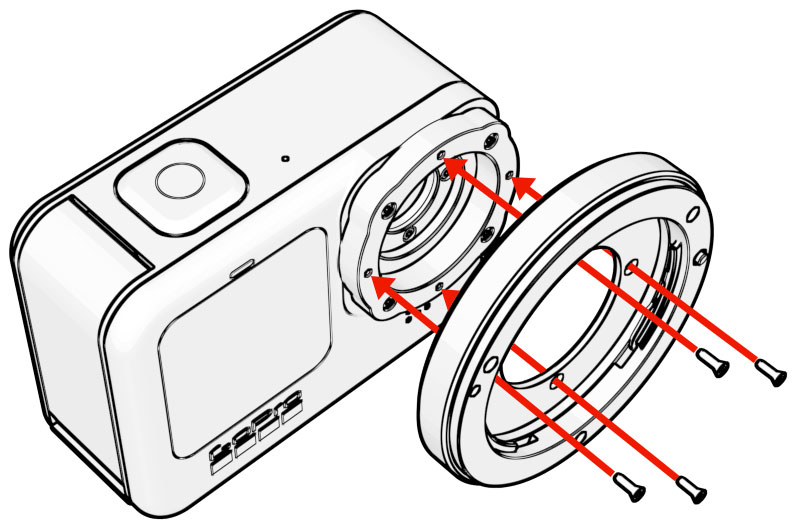 Specifications:
Ports
1 x USB-C
HDMI available via GoPro Media Mod accessory (sold separately)
MP4 Video
5312 x 2988 at 60 fps (MP4 via H.265/HEVC)
3840 x 2160 at 100/120 fps (MP4 via H.265/HEVC)
2704 x 1520 at 200/240 fps (MP4 via H.265/HEVC)
1920 x 1080p at 200/240 fps (MP4 via H.265/HEVC)
Still Image
JPEG / Raw – 27 MP
IP Streaming
H.265 1920 x 1080
Features
C-Mount, M12 & CS-Mount lens compatibility
10-Bit / GP-Log Color
TimeCode Sync
Hypersmooth 6.0 video stabilization*
Live Streaming (1080p)
HDR Video
HDMI out available via GoPro Media Mod (sold separately)
Front facing color display
HindSight
LiveBurst
Webcam functionality
Portrait Video/Photo
GPS
Voice Control
Manual Exposure Control
Exposure Lock
Integrated Touch Screen
Quik Integration
Package Includes:
H12PRO modified HERO12 Black camera
Aluminum Tripod Mount
Original folding GoPro mount
Enduro Battery
5mm C-Mount ring
M12 to CS adapter
M12 locking ring
Plastic cap (C-Mount)
USB-C Cable
Curved adhesive mount
Mounting buckle
Spare protective glass filter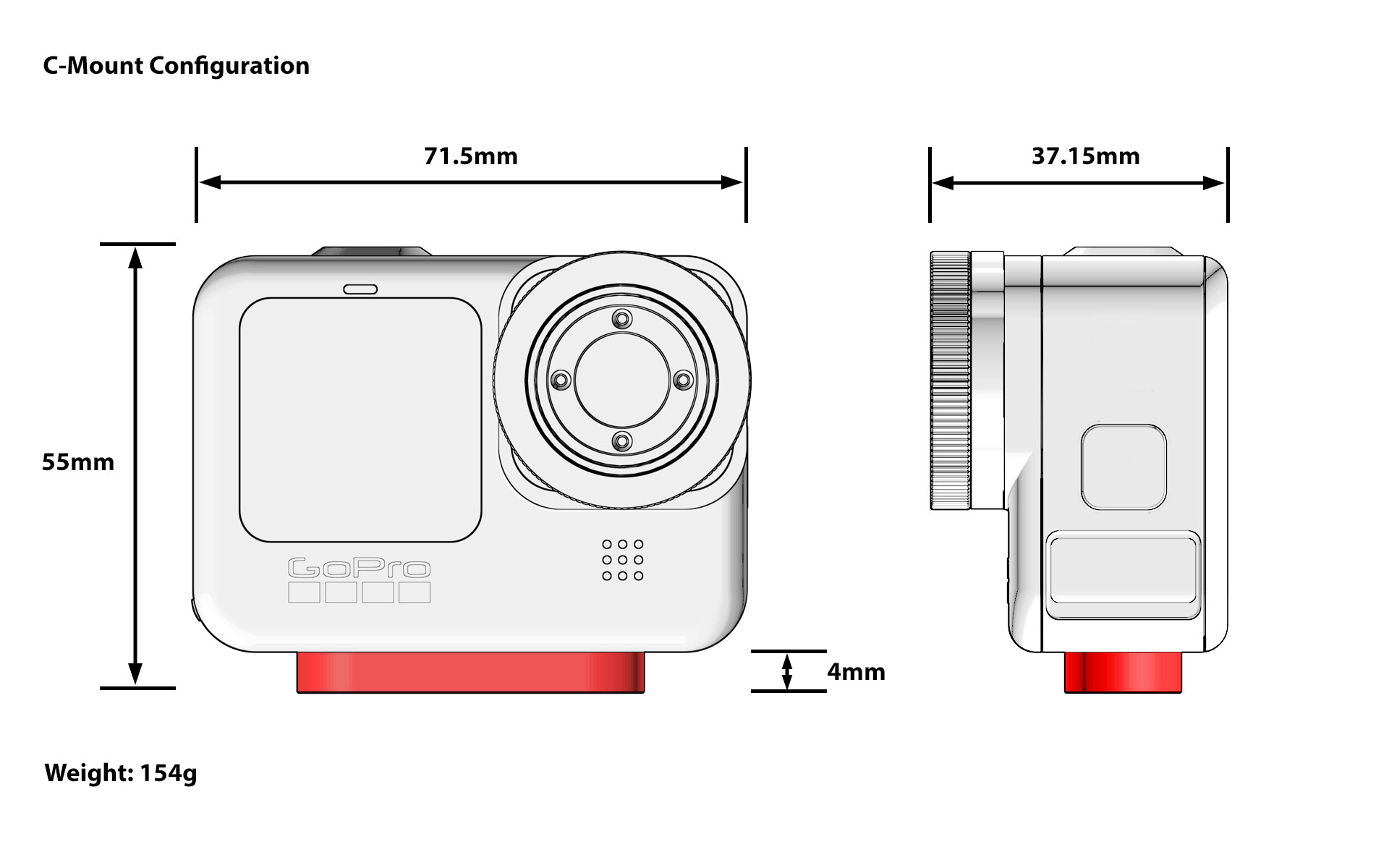 Warranty Information