Hero3 Case Modification Prototype
This isn't waterproof of course but there are many benefits to using the camera while protected inside the case. The mod replaces the original glass, and when used with the Ribcage Modified Camera you can attach CS and C-Mount lenses directly to the new case mod. M12 lenses can be used with an M12 to CS adaptor.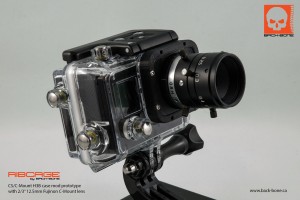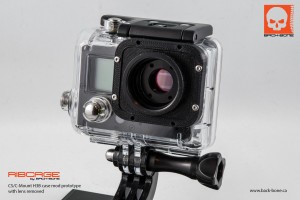 The Ribcage is a little thicker than the original camera it's built on, so an extended backdoor is required. In this case we used the extended door that comes with the LCD screen and filled the remaining space with a little foam. We are pleasantly surprised by how well the existing mounts can handle the added weight of much larger lenses!